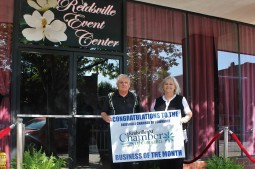 News for Education
Thursday, June 21, 2018
MARC Press ReleaseFor Immediate Release  Contact:         Jordan Rossi, Executive Director  Agency:          Museum & Archives of Rockingham CountyTelephone:     336-634-4949Email:             jordan@themarconline.org    Genealogy Roundtable: Christmas in July to be held July 26  WENTWORTH, NC – The Museum and Archives of Rockingham County (MARC) will host a Genealogy Roundtable, "Christmas
...
read more
Categories: Community, Fun Facts, Human Interest, Chamber, Education, General News Article, Press Release
Friday, June 15, 2018
June 15, 2018– A Ribbon Cutting ceremony and open house was held for Tiger Force Mixed Martial Arts at Family Fitnesson Wednesday, May 24th. Officer Brian Patterson, co-owner of TFMMA, used a samurai sword to cut the ribbon with Officer Sharra Carter, co-owner of TFMMA, and owner of Family Fitness, James Boswell. Tiger Force is located upstairs in the Family Fitness gym. They offer a variety of
...
read more
Categories: Ribbon Cutting, Community, General News Article, Press Release, Chamber, Education, Human Interest