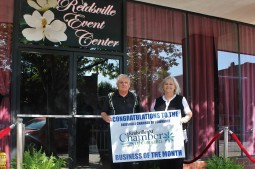 2016 State Visitor Spending Numbers
FOR IMMEDIATE RELEASE
Contact: Robin Yount, tourism manager Rockingham County Center for Economic Development, Small Business & Tourism
336.342.8138
ryount@myrockingamcountync.com www.
VisitRockinghamCountyNC.com facebook.com/VisitRockinghamCountyNC Instagram.com/VisitRockinghamCounty
NC STATE ANNOUNCES TOURISM'S VISITOR IMPACT FOR 2016 -County Spending by Domestic Visitors Increases by 4.7 Percent to $70.85 millionRockingham County, N.C. (August 17, 2017) – Visit North Carolina announced today that domestic visitors to and within Rockingham County spent $70.85 million in 2016, an increase of 4.7% from 2015. "The 2016 numbers from the state prove that tourism continues to be a thriving and viable segment of our economy. It creates jobs and increases our tax base," said Jan Critz, director of the Rockingham County Center for Economic Development, Small Business & Tourism. "Visitor spending in Rockingham County has increased over 18% in the last decade. I believe this is the direct result of so many partners in our community working together to promote Rockingham County's assets such as recreation, downtowns, festivals/events, and special event venues." Tourism impact highlights for 2016:
·
The travel and tourism industry directly employs 570 people in Rockingham County, which is a 3.8% growth in employment from 2015.
·
Total payroll generated by the tourism industry in Rockingham County was $12 million.
·
State tax revenue generated in Rockingham County totaled $3.79 million through state sales and excise taxes, and taxes on personal and corporate income. About $1.71 million in local taxes were generated from sales and property tax revenue from travelgenerated and travel-supported businesses. Gov. Roy Cooper announced in May that visitors to North Carolina set a record for spending in 2016. The $22.9 billion in total spending represented an increase of 4.4 percent from 2015.
These statistics are from the "Economic Impact of Travel on North Carolina Counties 2016," which can be accessed at partners.visitnc.com/economic-impact-studies. The study was prepared for Visit North Carolina by the U.S. Travel Association. "All eight economic development regions of the state had spending growth of 3 percent or more, and 96 percent of the state's counties saw direct tourism employment growth from 2015 to 2016," said Wit Tuttell, executive director of Visit North Carolina. "Tourism continues to be major driver of economic development across North Carolina, which is the sixth most-visited state in the country."
Statewide highlights include:
·
State tax receipts because of visitor spending rose 5.1 percent to nearly $1.2 billion in 2016.
·
Visitors spend more than $62 million per day in North Carolina. That spending adds more than $5.1 million per day to state and local tax revenues (about $3.2 million in state taxes and $1.9 million in local taxes).
·
The travel and tourism industry directly employees more than 219,000 North Carolinians.
·
Each North Carolina household saves $497 in state and local taxes as a direct result of visitor spending in the state.
###