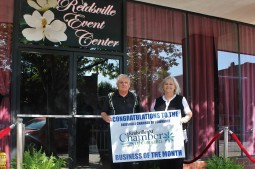 45 Employers at Coliseum Career Expo
Gale Ketteler, Public Relations Specialist
gketteler@triadgoodwill.org
336-544-5254 office
336-215-1909 mobile
NEWS RELEASE
45
Employers at Coliseum Career Expo
Triad Goodwill plays matchmaker for job seekers and recruiters
GREENSBORO, NC – Triad Goodwill's
Fall Career Expo
on Thursday, October 12 from Noon - 4:00 p.m. at the Greensboro Coliseum Special Events Center, 1921 West Gate City Boulevard. This Triad Goodwill event typically draws more than 50 employers and nearly 1,000 job seekers from across the Triad. This is an excellent opportunity to explore career options, whether you are unemployed, underemployed
or gainfully employed
, and you can network as you meet employers face-to-face. Bilingual Spanish workers are encouraged to attend. Call 336-544-5305 for more information.
To learn more and view Career Fair tips, visit
ILoveGoodwill.org/Fall-Career-Expo
and scroll to see the Job Seekers information. Videos are also available on the Triad Goodwill YouTube channel "Job Search Tips" playlist, including a new
Dress For Success
animation.
Sponsored by: The Budd Group, Allied Universal Security, Combined Insurance, EPES Transport, and Telvista.
Confirmed employers include:
Allied Universal Security
APAC-Atlantic, Inc./Thompson-Arthur Paving & Construction
A Servant's Heart Staffing
BH Media Group/Greensboro News & Record
Biscuitville
Bojangles'
Bonset America Corp
Budd Group
Charter Communication
Circle K
Cogent Analytics
Combined Insurance
Comcast Spectacor
Conduit Global
Cone Health
Crown Automotive
Daly Seven
EPES Transport
Express Employment Professionals
FedEx Ground
Forsyth County Sheriff's Office
Graham Personnel Services
Greensboro Coliseum
Greensboro Fire Department
Greensboro Police Department
Guilford County Government
Guilford County Sheriff's Office
Harland Clarke
Hickory Farms
Home Depot
JobFinderUSA
Peculiar Counseling & Consulting
River Landing at Sandy Ridge
Robert Half
SL Staffing Services
Spectrum Communications
SunBelt Furniture Xpress
Sunstates Security
Technimark LLC
Telvista
The Resource
Triad Goodwill
Truliant Federal Credit Union
US Postal Service
XLC Services
Admission and parking are free for job seekers. Dress professionally to make a great first impression with recruiters, and bring several copies of your
resume
to leave with employers. You must be at least 16 years old to enter the Career Expo. Arrange for childcare in advance. You must register to enter, so save time by printing and completing the
FastPass
registration form, date it October 12, 2017, and bring it with you/
About Triad Goodwill:
Triad Goodwill (Goodwill Industries of Central North Carolina, Inc.),
a 501(c)(3) non-profit leader, promotes the value of work by providing career development services, skills training and work opportunities for people with employment needs. In the past year, Triad Goodwill served 15,160 people in the community and helped place 3,312 workers in competitive employment
with more than 700 employers. 85¢ of every dollar earned in Triad Goodwill stores supports their mission.