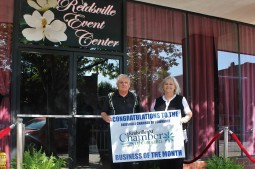 April Member of the Month - Bob Adams Florist
MEMBER OF THE MONTH:


(Pictured from L to R: Sam Brady, Sheryl Patton, Owner – Scott Adams, and Betty Craven)
Congratulations to Bob Adams Florist for being selected the Reidsville Chamber Member of the Month for April 2017. They are conveniently located inside the Pennrose Mall at 1601 S. Scales Street, Reidsville, NC. They have
been serving Reidsville and Rockingham County for almost 47 years. Bob and Carol Adams began the florist business back in 1970 at the Pennrose Mall where it remains today. After a 12 year battle with cancer, Bob died in 1997. The florist is now owned and operated by Bob's son, Scott Adams, who grew up in the family business and returned to Reidsville after graduating from UNC-Chapel Hill in 1984 to help his dad. Thirty-three years later, Scott is still delivering flowers six and sometimes seven days a week. His staff includes designer Betty Craven, who has been Scott's right hand for 21 years, designer Samantha "Sam" Brady, and Sheryl Patton who handles sales and customer service. Scott's sister, Lisa Duncan, along with Deanna Shreve, assist during holidays and when needed.
Bob Adams Florist has been a Reidsville Chamber member since May of 2005 and has been a Chamber Champ for most of those years. Scott Adams donates all of the ribbons used at the Reidsville Chamber's ribbon cuttings each month, and some of those months that number can be as many as 3-4 ribbons. For the Chamber's Business Showcase and other prime events, Bob Adams Florist donates plants and baskets to bring that event to life. Scott is on the Board of Directors for the Annie Penn Foundation and each year, donates roses for Relay for Life.
Bob Adams Florist is a full service florist offering flowers, plants, silk flowers, gifts, for all occasions and seasons. The florist is also member of Teleflora and FTD. At Bob Adams Florist the ultimate goal is to please the customer. Give them a call today at 336-342-3391 or 800-759-0213. You may also conveniently order through their website at bobadamsflorist.com
Contact:
Scott Adams, Owner
(336) 342-3391