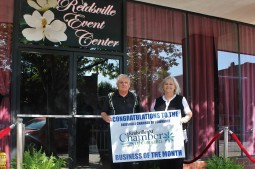 Bethany Community School Groundbreaking
PRESS RELEASE
Bethany Community Middle School
Contact: Vicky Bethel
vbethel@bcmschool.com
336.951.2500
For Immediate Release
Reidsville, NC
Bethany Community Middle School, established in 2000 as Rockingham County's first and only Charter School, celebrated the groundbreaking for a new 77,000 square foot middle and high school facility on December 6, 2016.
The ceremony was hosted by Mr. Leon Gentry, Chairman of the Bethany Community School Foundation. Mr. Gentry noted the ceremony as the beginning of a new era in educational opportunity and choice in Rockingham County. Guest speakers included North Carolina Senator Phil Berger, Rockingham County Commissioner Mark Richardson, Reverend Donald Haynes, Area Manager Allen Hart of USDA Rural Development, Senior Vice President David Colson of NewBridge Bank, and Chief Financial Officer Greg Marshall of Omega Construction.
The new campus, located on Hwy 158 at Hudson Road, will feature a middle school wing, high school wing, gymnasium, large dining and commons area, and an administrative area. Athletic fields will be available for various sports. The facility will enable the use of innovative technology by faculty to provide unique and comprehensive educational opportunities for students.
Work has begun to complete the new facility for the upcoming 2017-18 school year. At the groundbreaking, guests viewed the job site, the early stages of work, and facility construction plans.
Omega Construction, Inc. is the contractor for the project, with architectural design completed by Brite Engineering Consultants, Inc. Omega Construction and Brite Engineering Consultants are located in Pilot Mountain. The construction loan is financed through NewBridge Bank with USDA Rural Development providing the mortgage loan.
For the past 16 years, Bethany Community Middle School has been a school of choice for families with middle school students. In the fall of 2017, the school will begin teaching ninth grade students as it adds a high school program for the 2017-18 academic year. One high school grade will be added each year as the school becomes an educational institution for grades 6-12. The school will celebrate its first graduating class in the spring of 2021.
Contact:
Vicky Bethel, Principle
vbethel@bcmschool.com, (336) 951-2500