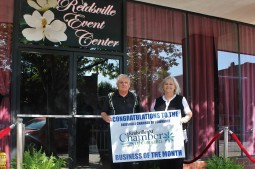 FREE Social Media Graphics Workshop in Eden
FOR IMMEDIATE RELEASE
September 18, 2017
Gale Ketteler, Public Relations Specialist
gketteler@triadgoodwill.org
336-544-5254 office
336-215-1909 mobile
NEWS RELEASE
FREE social media graphics workshop in Eden
Triad Goodwill hosts RCC Small Business program
GREENSBORO, NC –

Triad Goodwill

is hosting
a FREE Small Business Workshop. Social Media Graphics
meets on
Tuesday, September 26
from Noon - 2:00 p.m. at Triad Goodwill's Eden Community Resource Center, 220 W. Kings Highway, Suite H, Eden, NC 27288. Register by Friday, September 22.
Learn how to create branded graphics and messages for social media. Lunch will be provided.
Topics covered include:
Basic techniques on multiple platforms to help you brand your business with your own graphics

Creating a profile and cover photo for your existing Social Media accounts

Sites, tools and tips to help create graphics for each social platform

List of free stock photo sites and ideas for content creation for your brand
Instructed by Lady Bizness and presented in partnership with Rockingham Community College. Call 336-623-3007 for more information.
Prepare for career events:
About Triad Goodwill:
Triad Goodwill (Goodwill Industries of Central North Carolina, Inc.),
a 501(c)(3) non-profit leader, promotes the value of work by providing career development services, skills training and work opportunities for people with employment needs. In the past year, Triad Goodwill served 15,160 people in the community and helped place 3,312 workers in competitive employment
with more than 700 employers. 85¢ of every dollar earned in Triad Goodwill stores supports their mission.
###
Contact:
Gale Ketteler, Public Relations Gladiator
(336) 544-5254