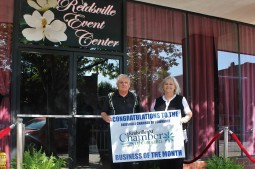 Goodwill Week proclaimed by Mayor Vaughan
Goodwill Week proclaimed by Mayor Vaughan
Annual celebration of nonprofit runs May 7-13
GREENSBORO, NC – Triad Goodwill, a 501(c)3 non-profit leader in career development and job placement, announces the annual celebration of Goodwill Week May 7-13, 2017. In honor of the nonprofit, Greensboro Mayor Nancy Vaughan issued the following proclamation:
WHEREAS, Goodwill Industries International was founded in Boston by Rev. Edgar J. Helms in 1902 and Goodwill Industries Week has been celebrated since 1951; and
WHEREAS, Triad Goodwill has been serving the Greensboro community since 1963, providing free career development services to people with barriers to employment, such as a disability, criminal background, lack of skills, education or work experience; and
WHEREAS, Triad Goodwill is joining with Goodwill® organizations throughout North America to help close the skills gap, serving as a resource to provide credentials and training in the community helping people connect with jobs; and
WHEREAS, Triad Goodwill helped nearly seventeen thousand job seekers last year, and place more than three thousand in jobs that added over fifty-nine million in earning potential to our economy while keeping over eight million pounds of product out of local landfills by recycling more than twenty different product lines; and
WHEREAS, the City of Greensboro seeks to focus its attention and heighten its public awareness of all the free workforce development services provided by Triad Goodwill in our City of Greensboro;
NOW, THEREFORE, I, Nancy Vaughan, Mayor of the City of Greensboro, do hereby proclaim May 7 through 13, 2017 as
GOODWILL WEEK
in Greensboro by encouraging all to donate unwanted items to Triad Goodwill where revenues will help fund job training and placement services for the unemployed and underemployed residents and citizens of our community.
IN WITNESS WHEREOF,
I hereunto set my hand and cause the corporate seal of the City of Greensboro to be affixed, this the 1

st

day of May, 2017.
As North America's leading nonprofit provider of job training, employment placement services and other community-based programs, Goodwill® helps people overcome challenges that prevent them from finding and keeping good jobs. As part of that ongoing effort, Triad Goodwill joins with other Goodwill organizations around the United States and Canada to celebrate Goodwill Week. Since 1951, Goodwill Week has taken place the first full week of May.
The sale of donated goods at Triad Goodwill's 22 retail locations and new Goodwill Outlet, plus e-commerce at
ShopGoodwill.com
and
Edgar's Bargain Books
, helps fund its job placement and training services. Everyone in the community can do their part by donating things they no longer need to Triad Goodwill. Last year, 16,954 people in Alamance, Caswell, Guilford, Randolph and Rockingham Counties benefited from free career development services at Triad Goodwill. In addition, 3,378 people reported job placement. Visit
facebook.com/triadgoodwill/events
to view career events scheduled for Goodwill Week and beyond. You may also subscribe to receive notifications.
Get connected to Triad Goodwill at
Facebook.com/TriadGoodwill (subscribe to Events), @TriadGoodwill, Instagram, Pinterest, YouTube, LinkedIn and visit ILoveGoodwill.org. We Put People To Work!
About Triad Goodwill:
Triad Goodwill (Goodwill Industries of Central North Carolina, Inc.) promotes the value of work by providing career development services and work opportunities for people with employment needs. In the past year, Triad Goodwill served 16,954 people in the community and helped place 3,378 workers in competitive employment. 85 cents of every dollar earned at Triad Goodwill's retail stores goes into their mission.