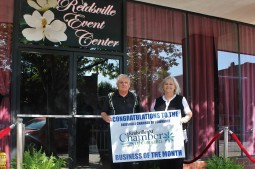 July 2017 Member of the Month
Congratulations to Amcor Tobacco Packaging for being selected the Reidsville Chamber Member of the Month for July 2017. Amcor has been an active Chamber member since 2009 and are currently Platinum Chamber Champions. They also hold a seat on the Executive Board of Directors with the Reidsville Chamber of Commerce.
Amcor is the worldwide leader in tobacco packaging and in their Reidsville location, they produce standard and complex tobacco packaging solutions, focusing on specialty packs and hinge-lid cartons. Amcor broke ground in Reidsville in October of 2005, and were fully operational by July 4, 2006. They currently have 132 employees in Reidsville and are the #1 Tobacco Plant in the world due to their Key Performance Indicators and Employee Engagement.
Amcor and their co-workers feel a strong sense of social responsibility for the community that surrounds their plant and participate in many charitable events such as: Adopt A Highway, Global Eyes For Hope, Salvation Army Angel Tree, Annual School Supply Drive, High Grove Senior Home, and American Red Cross.
The Reidsville Chamber is proud to have Amcor as members and congratulates them for all their hard work and efforts they place into the Chamber and Rockingham County.
Contact:
Cindy Smith, Human Resources Manager
(336) 361-5600