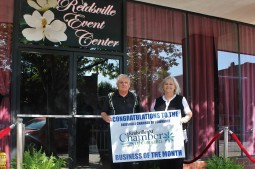 Life Light - Hospice of Rockingham County
Change is often a good thing so with that in mind, we are changing the format of our LifeLight ceremony in 2017. On Thursday, December 14

th

, we will hold our 24

th

annual LifeLight ceremony. This year, instead of sponsoring lights on a tree in honor or memory of special people in your life, LifeLight will be an opportunity to purchase a luminary instead. Our 2017 event will be held at Freedom Park in Eden, NC, and you can drive through the park between 6:00pm until 8:00pm to enjoy the luminaries. If you would like, please stop by the shelter and join us for some seasonal music and a cup of hot chocolate.
Since 1994, our LifeLight tree has sparkled each December with hundreds of lights, and this project has raised more than $350,000.00 to help provide care for our uninsured and underinsured patients and families. For 2017 we have set our goal for the new luminary project at $25,000.00. As always, LifeLight proceeds will help ensure continued quality care for our patients and their families, regardless of their insurance coverage. For fiscal year 2016-17, we cared for almost 500 patients and families and provided almost $100,000 in uninsured patient care. HRC is very proud to be able to say we have never turned away a patient due to lack of coverage or ability to pay. Continued cuts in Medicare/Medicaid reimbursement and an ever-increasing number of people having no insurance coverage make this more and more of a challenge but we have faith that with continued strong community support, we will always be able to make this statement!
Enclosed is an envelope containing information about LifeLight. Luminaries may be sponsored for a suggested donation of $5.00 each. For your convenience, you may also make your LifeLight donation online at www.hospiceofrockinghamcounty.com. As in all years' past, we will send a handsome acknowledgement card to the person of your choosing. Due to the high volume of mail during the holidays, please allow 7-10 business days for processing of acknowledgements. Should you have any questions, please feel free to call the Hospice office at (336) 427-9022.
We hope to see you at Freedom Park on December 14

th

.
Lynn P. Flanagan, RN, MSN, CHPN
Executive Director
PS - To ensure proper notification of your memorial or honorarium, please fill in all requested information on the donation envelope; if you need additional space, feel free to enclose a separate sheet of paper. We accept LifeLight contributions and send acknowledgements throughout the month of December.