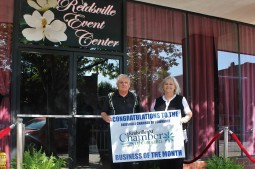 Love's Truck Stop Coming To Reidsville!
Love's Travel Stops plans to open $11M Triad location by summer 2018
SUBSCRIBER CONTENT:
Aug 8, 2017, 12:23pm EDT
LOVE'S TRAVEL STOPS
Love's Travel Stops is planning an $11 million truck stop in the Triad similar to the Mebane store pictured in this photo.
Oklahoma City-based Love's Travel Stops is finalizing the purchase of land for a

new facility in Reidsville it plans to open by summer 2018

, part of a larger economic development plan that city officials hope will revitalize the surrounding area .
Jeff Garstka
, economic development director for the city of Reidsville, told TBJ Tuesday that the company is in the "final stages" of purchasing a 21-acre parcel off Highway 29 near Barnes Street and Holiday Loop Road. He expects the company to buy the land from the city of Reidsville and Rockingham County for a total of $1 million in the coming weeks.
"Initially they were hoping to be open before the end of this year, but they had some permitting they had to get through for some roadwork," Gartska said.
Kealey Dorian

, a spokeswoman for Love's Travel Stops, confirmed to the TBJ that the $11 million 10,000-square-foot building is slated to open in "mid to late summer of 2018," with construction slated to begin this winter or early next year. A contractor has not yet been selected.
Dorian said the Reidsville store will have a McDonald's and a Chester's chicken restaurant as well as a tire facility and 67 spaces for trucks to park.
"It will cater to professional drivers and motorists traveling across the country," she said. "There is demand nationwide for truck parking spaces. We are in the middle of a pretty rigorous nationwide expansion. This year we are scheduled to open approximately 50 new stores all across the country."
Dorian said the Love's location in Reidsville could employ 60 or more people, including those hired by McDonald's.
"McDonald's staffs a lot of people so we find that when we have McDonald's restaurants, it sometimes creates more opportunities," she said.
Love's has no plans for a hotel at the location at this point, she said.
Garstka
said that he expects the new Love's Travel Stop to attract other investments from commercial and developers on a 150 acre property owned by the city and county. Love's is buying 21 acres of that property.
"We've had several retail (and) commercial real estate developers and restaurant types that have looked at that property," he said.
Contact:
Jeff Garstka, Economic Development Director
336.347.2307