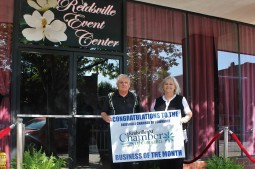 May Member of the Month - Reidsville Event Center
MAY MEMBER OF THE MONTH:
Reidsville Event Center


(Pictured: Bob & Myra Tudor with the Reidsville Event Center)
Congratulations to the Reidsville Event Center for being selected as Member of the Month for May 2017 with the Reidsville Chamber of Commerce. Located at 223 S. Scales Street, Owner's Bob and Myra Tudor, for the past eleven years, have been hosts to weddings and receptions, surprise birthday parties, anniversary celebrations, annual fund raisers for non-profit groups, including the Soup Kitchen, the Reidsville Chamber of Commerce, and a Prom Dance for the Cancer Foundation. Annual dances for Early College students, Spring Fling and Christmas dances for ages 13 and under and the popular Father Daughter dance are just some of the youth events hosted at the Event Center. And every Thursday evening, a live band (City Limits) plays for seniors to come out and enjoy good music and fellowship among friends. Businesses needing a meeting place for up to 300 people are among those who have repeatedly used this venue.
Six thousand lights provide accent to the canopy above the 1200 sq ft dance floor and is part of the permanent "no cost" decorations that entice clients to enjoy the freedom of having the center already decorated and fits in whether the client wants princess bling, country charm, classic vintage, or celebration colors for the Reidsville Chamber and Reidsville Downtown Corporation's Casino Night. Some may bring a few personal touches or rent additional decorations from inventory.
Most importantly, the Event Center's owners, Bob and Myra Tudor, are sure to provide personal attention in order to meet every client's wants and needs, and to make everyone's special event memorable. They are so generous in donating items to help make many of the Reidsville Chamber Event's look amazing. Myra's specialty is throwing in unexpected surprises and making events look close to perfection! Give them a call today at (336) 342-6770 or visit their Facebook page at
https://www.facebook.com/ReidsvilleEventCenter
Contact:
Bob Tudor
(336) 342-6770