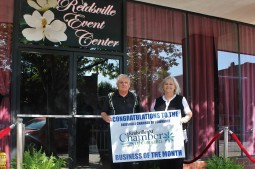 New Retail Customer and Service Skills Certification Class in Reidsville
FOR IMMEDIATE RELEASE
September 19, 2017
Gale Ketteler, Public Relations Specialist
gketteler@triadgoodwill.org
336-544-5254 office
336-215-1909 mobile
NEWS RELEASE
New Retail Customer and Service Skills Certification Class in Reidsville
Triad Goodwill partners with Rockingham Community College
GREENSBORO, NC –

Triad Goodwill

is offering a new

Retail and Customer Service Skills Certification Class

. The class will meet October 17 - February 1, Tuesdays through Thursdays, 6:00 p.m. - 8:00 p.m. at Triad Goodwill's Reidsville Career Center,
1551 Freeway Drive, Reidsville, NC 27320. Instruction will be by Rockingham Community College. Call 336-342-4261 ext.2107 to register by
Friday, October 13.
Upon completion, you will be eligible to take credential exams based on the National Skills Standards. This is a valuable certification for frontline work, entry-level retail, and first-time job seekers in Rockingham County's second-fastest growing job field!
Learn
basic work fundamentals, getting and keeping a job in retail, products and services, assessing and meeting customer needs, preparing for selling, gaining customer commitment and closing the sale, the basics of store operations and inventory control, the process of merchandising, and the importance of common employability skills.
Earn TWO certifications for the price of ONE! Cost: $125 + $35 Textbook. Prepayment is required by the October 13 registration deadline.
Call 336-637-1010 for more information.
About Triad Goodwill:
Triad Goodwill (Goodwill Industries of Central North Carolina, Inc.),
a 501(c)(3) non-profit leader, promotes the value of work by providing career development services, skills training and work opportunities for people with employment needs. In the past year, Triad Goodwill served 15,160 people in the community and helped place 3,312 workers in competitive employment
with more than 700 employers. 85¢ of every dollar earned in Triad Goodwill stores supports their mission.
Contact:
Gale Ketteler, Public Relations Gladiator
(336) 544-5254