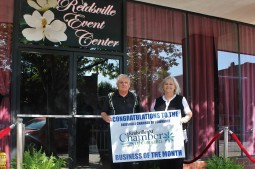 Member of the Month for August 2017
Congratulations to Beneficial Dynamics for being selected the Reidsville Chamber Member of the Month for August 2917. They have been an active Chamber member since 2015 and are currently Diamond Chamber Champions. Representative, Leonard Harrison has been with Beneficial Dynamics for 13 years, where they have clients in 41 states, and 191 total in Rockingham County alone. Beneficial Dynamics offers services in Sales Consulting, Credit Card Processing, and Small Business Legal Plans. They offer a comprehensive sales program that allows you to take advantage of their skill set to produce revenue, where their technicians become your sales force. The partnership can be either short or long term depending on your needs.
Beneficial Dynamics processes the Reidsville and Eden Chamber of Commerce's credit cards. "Leonard has been amazing and continues to provide great customer service and expects nothing but the best for his customers. He provides quick and detailed answers, taking care of any issues and shows up in person to resolve any questions or concerns," says Reidsville Chamber President, Diane Sawyer. "We had an event where we would be using a swiper for our mobile devices for the first time and Leonard came over an hour early, set us up, and helped us through the night with our machines. Whan an amazing way to do business and show your customers that you care!"
To find out mre about Beneficial Dynamics, visit their webpage at www.beneficialdynamics.com or Facebook@Beneficial Dynamics. Leonard is available anytime at (336) 739-0477. Give him a call today!
Contact:
Leonard Harrison, Owner
2318814704