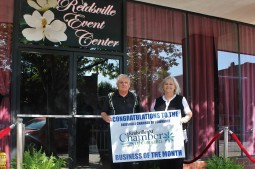 Positive growth creates staff restructuring at arts council
FOR IMMEDIATE RELEASE December 4, 2017
ROCKINGHAM COUNTY ARTS COUNCIL
Submitted by: Melissa Mericle; 336-349-4039;
director@rcarts.org
Photo enclosed
Positive growth creates staff restructuring at arts council
The Rockingham County Arts Council (RCAC) is pleased to announce its organization is growing. The RCAC Board of Directors has named Melissa Mericle Interim Executive Director.
Having previously served as Artistic Director for Theatre Guild of Rockingham County (TGRC), Mericle brings her experience in nonprofit operations, program management, fundraising and service to the Rockingham County community; as well as more than a decade of nonprofit volunteer leadership experience. The RCAC Board is confident that Melissa will provide the Arts Council with outstanding guidance and success
.
"The arts are my life blood. I have lived and breathed the arts all my life. When I take on a challenge, I give it all my effort and all my heart, and what better organization to give my heart to than a nonprofit that benefits the arts. I am so excited for the future of Rockingham County Arts Council," says Mericle.
Teresa Phillips, who has served as ED for RCAC since 2015, moves into a new role created especially for her, Community Engagement Director. Community Engagement is about bringing people and organizations together to make a positive, significant, and lasting difference in our community through the arts. In addition to supporting a seamless transition for the incoming ED, Phillips will work to build additional partnerships with artists and community leaders.
Phillips adds, "It is my goal to continue building partnerships with artists and community leaders. I believe community involvement is the best way to develop programs that use the arts as a way to improve the quality of life for all citizens of our county."
Phillips and Mericle have worked on projects together for more than a year, including theatre projects with TGRC, as well as Art Rocks in Rockingham County with RCAC. This partnership has given the Arts Council the opportunity to see the benefit of the duo's collaborative efforts.
Board President, Barbara Osborne, adds, "

The board of directors is excited that we will continue to have Teresa's passion and expertise for the arts in Rockingham County and adding Melissa as our new executive director adds to that passion. We have watched the two of them work together in the past and complement each other. We are so fortunate to have both of them now. Expect great things from the Rockingham County Arts Council in 2018!"
This restructuring will ensure that Rockingham County Arts Council continues fulfilling its mission to promote a vibrant creative economy and improve the quality of life for all people in the community by supporting and enriching cultural arts throughout Rockingham County.