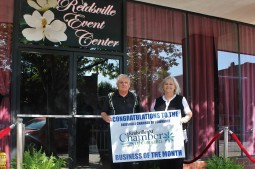 Press Release: Meggan Odell top 40
September 15, 2017
Contact: Cathy Powers, Executive Director
Aging, Disability & Transit Services
336-349-2343
FOR IMMEDIATE RELEASE
ADTS Deputy Director, Megan Odell Named Top 40 Under 40 By Mass Transit Magazine
(Reidsville, N.C.) Aging, Disability & Transit Services of Rockingham County is delighted to announce that Deputy Director, Meggan Odell has been recognized by Mass Transit Magazine as one of this year's top 40 industry leaders. Meggan was selected for this recognition from more than 160 nominees in what the magazine noted as "the strongest field of nominees ever.
Mass Transit, the only magazine exclusively dedicated to public transportation, announced their ninth annual Top 40 Under 40 list, honoring those professionals who have made significant contributions to the public transit industry. Honorees were nominated by their peers and judged on criteria that included job commitment, industry involvement, and contribution, achievement in his or her position and innovation in the field.
"Millions of people utilize public transportation every year, relying on it to transport them to work, school, medical appointments, and social and sporting activities," says Mass Transit Publisher Emily Guill. "The individuals chosen for this year's list have an eye for innovation and show a strong passion and commitment that exemplifies the best of the best." Executive Editor Leah Harnack adds, "It was challenging to narrow it down, but we are confident that this list of professionals will continue to play a significant role in public transportation for decades to come."
Over the past 5 years, Meggan has spearheaded dramatic growth in our local transportation services through the addition of the skat bus system and the consolidation of Medicaid transportation services. Her comprehensive knowledge and experience have been instrumental in bringing together the community leaders necessary to bring comprehensive public transportation to Rockingham County.
Thousands of riders have used the system to date; in fact, we are happy to share that last fiscal year our consolidated transportation services provided more than 105,000 trips across our county!
As one of the 2017 winners of this significant award Meggan will be showcased in the September/October issue of Mass Transit magazine and online at www.MassTransitmag.com.
ADTS is a private nonprofit agency dedicated to enhancing the quality of life for individuals by empowering them to achieve optimum health and well-being, independence and participation in the community. This mission is accomplished through providing an array of community services including Home Care (CAP-DA, PCS, Home & Community Care Block Grant, Private Pay), Meals on Wheels (United Way supported), Meals With Friends Nutrition Sites, LEAF Center Adult Day Care/Day Health, RCATS Public Access Transportation, skat bus transportation, Volunteer Services, Companion Care, Family Caregiver Support, Center for Active Retirement and Advocacy and Referral Services. Learn more at
www.adtsrc.org
.
# # #
Contact:
Cathy Powers, Interim Director
(336) 349-2343