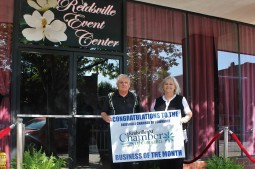 September Member of the Month - Plantation Golf Club
Congratulations to Plantation Golf Club for being selected Member of the Month for September 2017. They are located off Hwy 14 on Salem Church Road about 1 mile on the right at 190 Club House Drive, Reidsville, NC. They have a wonderful team at Plantation Golf Club consisting of Owner - Roy Cook, Manager - Annette Mink, Pro Shop Mgr - Lyle Heath, and Superintendent - Derek Busick.
John V. Townsend, Landscape Architect, built the 9-hole golf course in 1987 but quickly by 1989 became an 18-hole course. Plantation was originally designed as a skilled course with water hazards and required shot accuracy. Otis Green purchased the course in 1996 then sold it to the current owner, Roy Cook, in April 2002. Mr. Cook has worked to improve the course by opening the course up, adding bridges, improving the fairways and the greens during his time of ownership.
Plantation Golf Club is open 7 days a week from @ 8 am - 8 pm depending on the time of year. They offer Ladies Captains Choice on Monday evenings, Men's Captains Choice on Tuesday & Thursday evenings, and Couples Captains Choice on Friday evenings. Call (336) 342-6191 before 5:00 pm to book your team. Tee off will be at 5:30 pm.
Plantation also offers a lovely banquet room that seats 70 people which is great for baby & wedding showers, and graduation & birthday parties. Call Annette Mink for availability.
Upcoming tournaments include: Christian Outreach Ministries on October 7th
Annie Penn Cancer Tournament on October 28th
​
The Reidsville Chamber appreciates Plantation Golf Club for hosting our Annual Golf "Fore" Reidsville Tournament in August. They have served as our host for the past two year, and their crew was amazing in helping set up and tear down all of the tents and equipment, as well as keeping the golf carts cleaned and charged. We look forward to future events with the Club!
Contact:
Annette Mink, Manager
(336) 342-6191