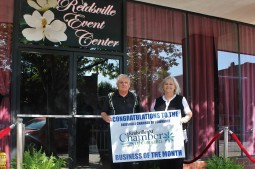 Service Project Hosted by MJM Proves to be a Huge Success
Contact: Ellen Makaravage
Phone: 336-577-1064
Email:
MountJubileeMinistries@gmail.com
For Immediate Release
Service Project Hosted by MJM Proves to be a Huge Success
"As I explained to Matthew, age 35, exactly what we were doing, he looked at me and said,
'I think I'm gonna cry. I never thought I could help feed anyone.'
" On Saturday morning March 25, 40 volunteers and 15 special needs friends from all over the Piedmont area converged on the Reidsville Bible Chapel to participate in a Feed the Need Packing Party. With the mindset of including our special friends in everyday activities, Mount Jubilee Ministries set out to pack meals to be sent to malnourished children in the poverty-stricken country of Haiti. The message of serving others was clearly displayed throughout the day as we worked together in teams at 6 stations to package, weigh, seal, and box 6,700 meals.
The meals are distributed to ministry partners of Feed the Hunger in Haiti who in turn deliver them to schools and orphanages. Often the lunch the students receive is their only meal of the day. This Feed the Need service project was held in cooperation with The Champion Group.
Upon completion of the hard work, we all enjoyed pizza that was generously donated by Reidsville merchants, Fursty's Restaurant, Marco's Pizza, Papa John's Pizza and Domino's Pizza. Two nicely decorated cakes were also donated by the local Food Lion and Lowes Foods. Thanks to everyone who came out and made this day memorable!
Mount Jubilee Ministries is a local Christian ministry which partners with individuals who have special needs, their families and the community to provide opportunities for productive living. For more information about Mount Jubilee Ministries or our week of Camp Jubilee coming up July 30, please visit our website at
www.MountJubilee.org
or call Cecil Cottrell at 336-349-8923.
Contact:
Ellen Makaravage
mountjubileeministries@gmail.com, 336-577-1064