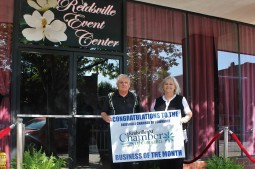 TGRC has Southern Fried Funeral Auditions
Auditions
December 9th - 10:00
December 10th - 6:30
December 13th - 6:30 (Call Backs and/or Company Meeting)
Rockingham Community College Auditorium

Performances
November 30th - 7:30
December 1st - 7:30
December 2nd - 7:30
December 3rd - 2:30
Rockingham Community College

Please be prepared to cold read from the script during auditions. Bring your completed audition form (bottom of this page) and show addendum (coming soon).

You may also want to review the audition information on our website fat
www.tgrc-nc.com
or more information.


SYNOPSIS:

Dewey Frye is dead and the rest of his family is left to pick up the pieces -- that is if they don't kill each other first. Not only does matriarch Dorothy have to contend with sudden widowhood, but she's also faced with church-committee harpy Ozella Meeks sticking her nose in the family business, Dewey's snake-in-the-grass brother making a grab for her house, and two grown daughters reliving their childhood rivalry. Funerals bring out the worst, the best, and the funniest in people, and the Fryes are no exception. A big-hearted comedy about family -- Southern-style.


CHARACTERS: (ages are flexible)

DOROTHY FRYE: 50's/60's - Dewey Frye's widow and the matriarch of the family.

SAMMY JO FRYE-LEFETTE: 30's - The middle child and future president of the junior league.

HARLENE FRYE: 30's/40's - The oldest child and the prodigal daughter.

DEWEY FRYE JR: 20's - The youngest child and not the brightest bulb.

DUB FRYE: 50's/60's - Dorothy's brother-in-law.

ATTICUS "ATTIE" VAN LEER: 30's/40's - Family lawyer and on-again-off-again love interest of Harlene.

BEECHAM LEFETTE: 30's - Sammy Jo's husband.

MARTHA ANN FOX: 50's/60's - Dorothy's best friend, last name pronounced "Marthann".

FAIRY JUNE COOPER: 50's/60's - Contemporary of Dorothy and Marth Ann; they've been friends since high school.

BENNY CHARLES GREENWOOD: 50's/60's - Best friend of Dewey Frye Sr.

OZELLE MEEKS: 60's/70's - Chairwoman of the SonShine committee at the church, a position she does not take lightly.