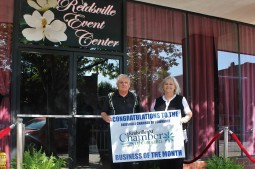 Rockingham County Arts Council Creative Mingle
Name:
Rockingham County Arts Council Creative Mingle
Time:
6:00 PM

-

8:00 PM EDT
Event Description:
The next Creative Mingle will be September 27th from 6 pm to 8 pm at the Reidsville Area Foundation Building, 124 S. Scales Street, Reidsville, NC.
You'll meet new RCAC board members and participate in a lively conversation, sharing your perspectives about our local arts scene. It's part of our 2018/19 "Listening Tour" currently being held across Rockingham County. Thanks to support from the Reidsville Area Foundation and RCAC members like you, we are investing the next 12 months in meeting with local leaders, artists, educators, RCAC members, and civic/religious groups to learn how we can form deeper and more effective partnerships to make the arts more relevant and meaningful in Rockingham County.
Hope to see you on Sept. 27th. If you would like to talk before then, don't hesitate to call or email.

Sincerely,
Jenny Edwards, Executive Director
Diana Moran, Grassroots Coordinator & Artist
(336) 349-4039