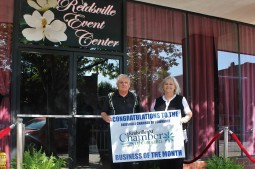 News for Economic
Tuesday, January 15, 2019
Disaster Field Operations Center EastRelease Date: Jan. 14, 2019 Contact: Michael Lampton (404) 331-0333 Michael.Lampton@sba.gov Release Number: 19-253, NC 15517 Follow us on Twitter, Facebook, Blogs & InstagramSBA Deadline for North Carolina Small Businesses to Apply for Working Capital Loans for the Tornado and Severe Storms is Feb. 8 ATLANTA – The U.S. Small Business Administration is
...
read more
Categories: Community, General News Article, Chamber, Economic, Press Release
Friday, January 04, 2019
CAREER DIGESTWorkforce training and employment events with Triad Goodwill For January 4 and BeyondHiring Event on Monday, January 7 9:00 a.m. – Noon at Triad Goodwill's Greensboro Career Center, 1235 South Eugene Street, Greensboro, NC 27406. FedEx has an immediate need for Package Handlers. Pay starts at $11.40 for day shifts, and $11.90 for night shifts. Call 336-544-5305 for more
...
read more
Categories: Community, General News Article, Chamber, Economic